On March 19, 2015, Senators John Thune and Senator Bill Nelson have introduced the S. 808, known as the Surface Transportation Board Reauthorization Act of 2015. Previously in 2014 a similar bill was introduced to Congress by Jay Rockefeller and John Thune. Due to its late introduction to Congress, the bill did not move further than being approved by the Committee of Commerce, Science and Transportation.
Although this bill is being called the "Rail reform bill", it's enactment would ultimately be beneficial to railroads and those in charge of transportation operations and shippers. This bill is already receiving support from such organizations as the National Association of Chemical Distributors (NACD).  Some of the highlights of the bill as mentioned by American Shipper and National Industrial Transportation League include adding two more members to the Board totaling 5; will allow the Board to investigate matters other than rate cases; and shortening rate review timelines with voluntary arbitration and setting timelines for stand-alone rate cases.
Stay current with regulatory changes with AMTR's knowledge-based approach to the transportation industry.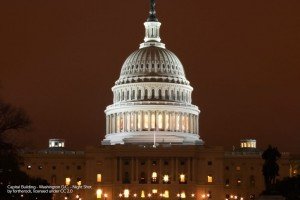 Capital Building – Washington D.C. – Night Shot by fortherock, licensed under CC 2.0